Virtual Tour Now Available!
The Wedding Chapel
The Wedding Chapel at Conley Creek is the quintessential old country church. It is at the end of a winding dirt road nestled in a wooded grove of century old oak trees at the base of a rolling meadow. You will step back in time as you enter through alder wood doors onto pine floors and are surrounded by rough sawn paneling straight from the mill.
The high vaulted ceilings and custom windows make this a truly unique space and it comes complete with a bell that you can give a celebratory ring at the conclusion of your service. Whether you choose to wed inside or on the grounds outside, it provides the perfect intimate setting for your special day.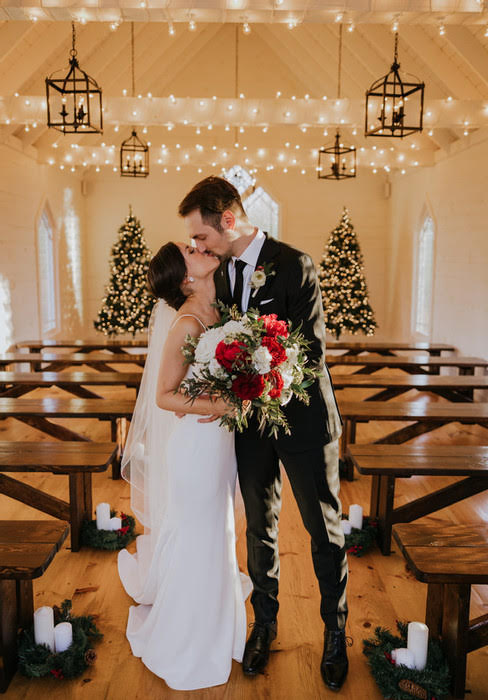 The Event Barn
The Conley Creek Event Barn is the perfect place to gather with family and friends for any occasion. It is a great mix of elegance and country charm combining high timber truss ceilings with warm wood walls making it a space that is large but also cozy and inviting. Glass French doors line each side of the barn and can be left open to generate a pavilion feel and allow North Georgia Mountain air to pass through and also enlarge the space if the need arises. There is a grass lawn on the end of the barn to stage a wedding ceremony, seat guests for an outdoor meal, or just play cornhole with friends, and the lawn can be lit up for events after dark. While the Event Barn draws on the yesterday feel of a barn and lodge, it also offers many modern conveniences. There is a commercial kitchen for caterers to stage their meals, a sound system that runs throughout the interior and exterior of the building to play music and use as a public address system, a 75" television is tucked away behind barn doors that can be used for slide shows and presentations, ADA compliant Men's and Women's restrooms with multiple stalls in each, and much much more. The facility also has a central heating and cooling system that allows it to be utilized in Winter and Summer months so any time is a great time to have an event at Conley Creek.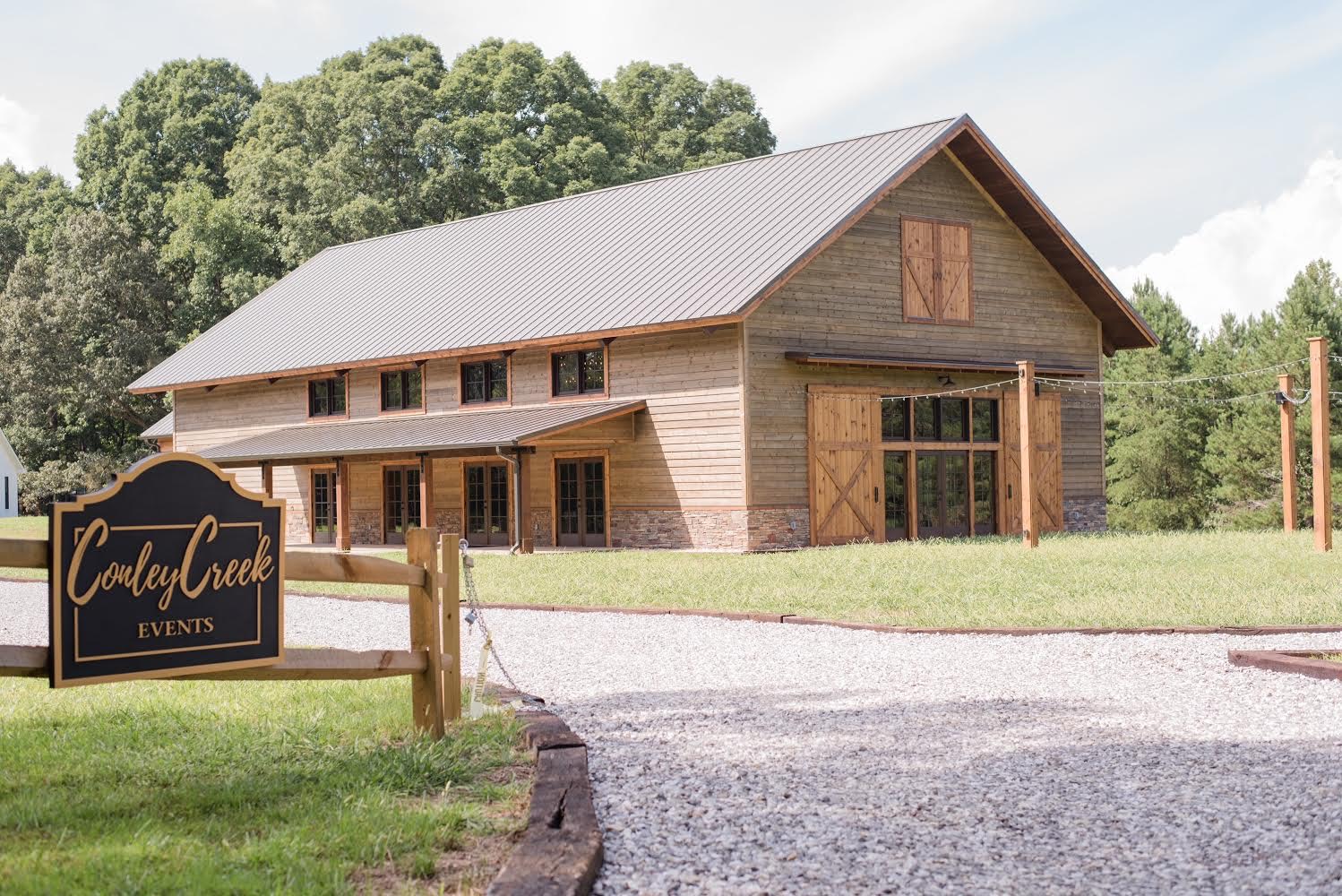 Cabins
Conley Creek has two cabins on the property that are the ideal spot for wedding parties to get ready in or event hosts to spend the night. The cabins are situated at the end of an old pasture and are modeled after quaint farmhouses. They have the same inviting and warm feel to them as the other structures on the property with wood walls, ceilings, and floors providing a homey ambiance to help guests feel comfortable in a home away from home. The cabins have two bedrooms with one having a full bed and the other having 4 "bunks". Each cabin is fully furnished and also has two full bathrooms, wifi, central heating and air, flat-screen tvs, and a full kitchen. The "Bridal" cabin has a make-up area as well as a large mirror for the bride and the members of her party to make sure that they are perfect for the ceremony.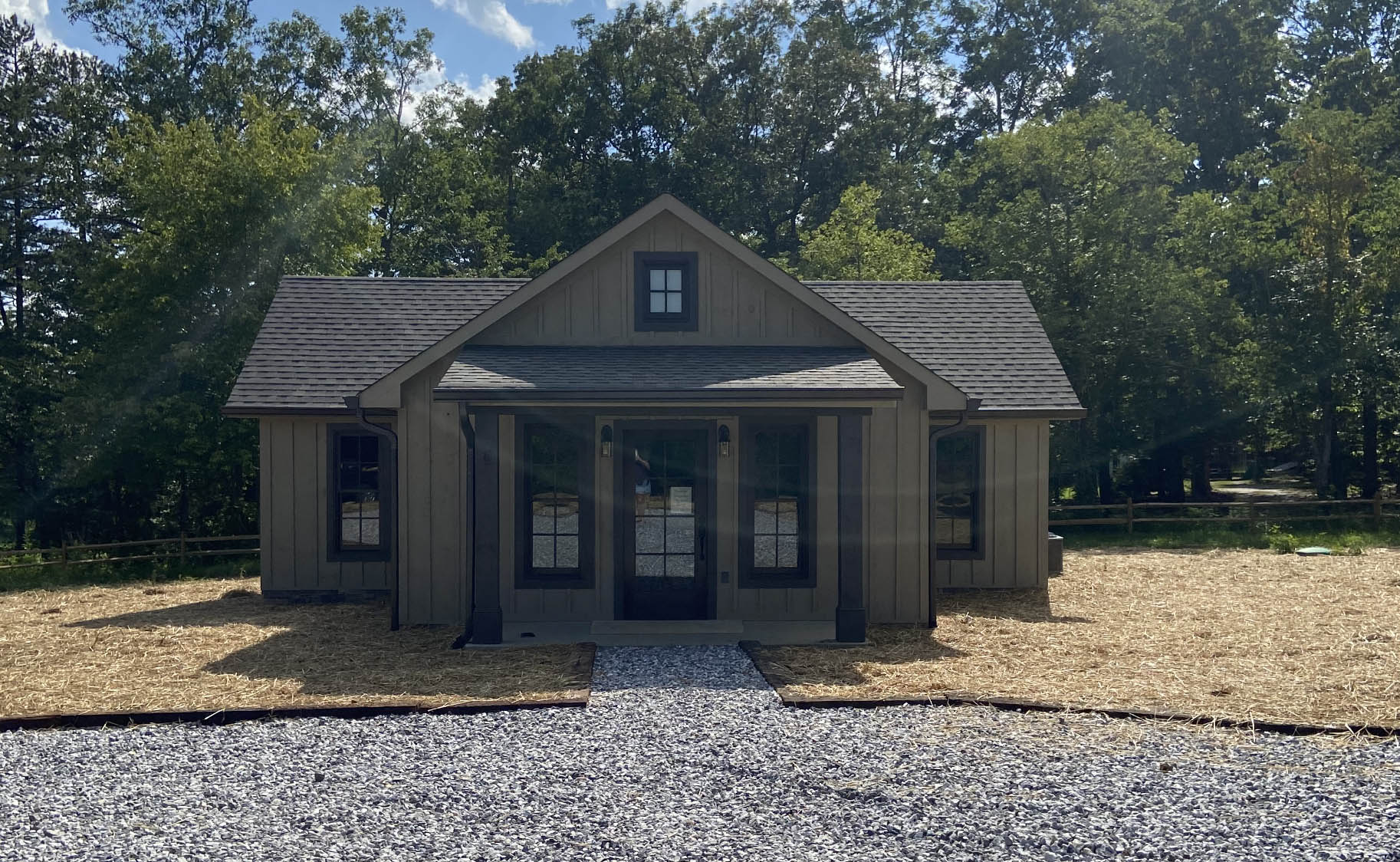 Guest Cottages
Conley Creek also offers wedding guests a place to stay on campus in one of three charming cottages. Two of the three cottages offer one bedroom accommodations and sleep four with the third cottage having two bedrooms and sleeping eight. Each one does include a sofa bed. The cottages are nestled in the woods but are close enough together to offer tenants a great opportunity to mingle and catch up or get acquainted for the first time. Each cottage has its own porch where you can sit and enjoy the peace and tranquility of the North Georgia Mountain and it is not at all uncommon to see squirrels scampering around, turkeys strutting by or deer passing through. Each cottage offers a full kitchen and a single bathroom but no tv or wifi so they are a great place to unplug and unwind. The location of the cottages is within a short walk to the Event Barn and the Wedding Chapel so residing in one of them will be very convenient to all of the day's festivities.
Ole Red
An interesting and scenic structure on the property that isn't used as an event space is affectionately called "Ole Red". Ole Red is a barn that was constructed over 100 years ago yet is still standing. The red paint on the barn has faded and there are some signs of wear and tear from the demanding life of being a barn but it offers many cool features that can only be found in the ingenuity and craftsmanship of a time gone by. Ole Red offers some great picture taking scenery around the exterior as well as inside the barn loft with the open loft doors providing a frame for the newlywed couple. While we don't open Ole Red up to guests at events to wonder through the interior at their leisure, we do welcome wedding parties to take as many pictures as they want at this location. There is a grassed lawn outside Ole Red which could be used for a wedding as well.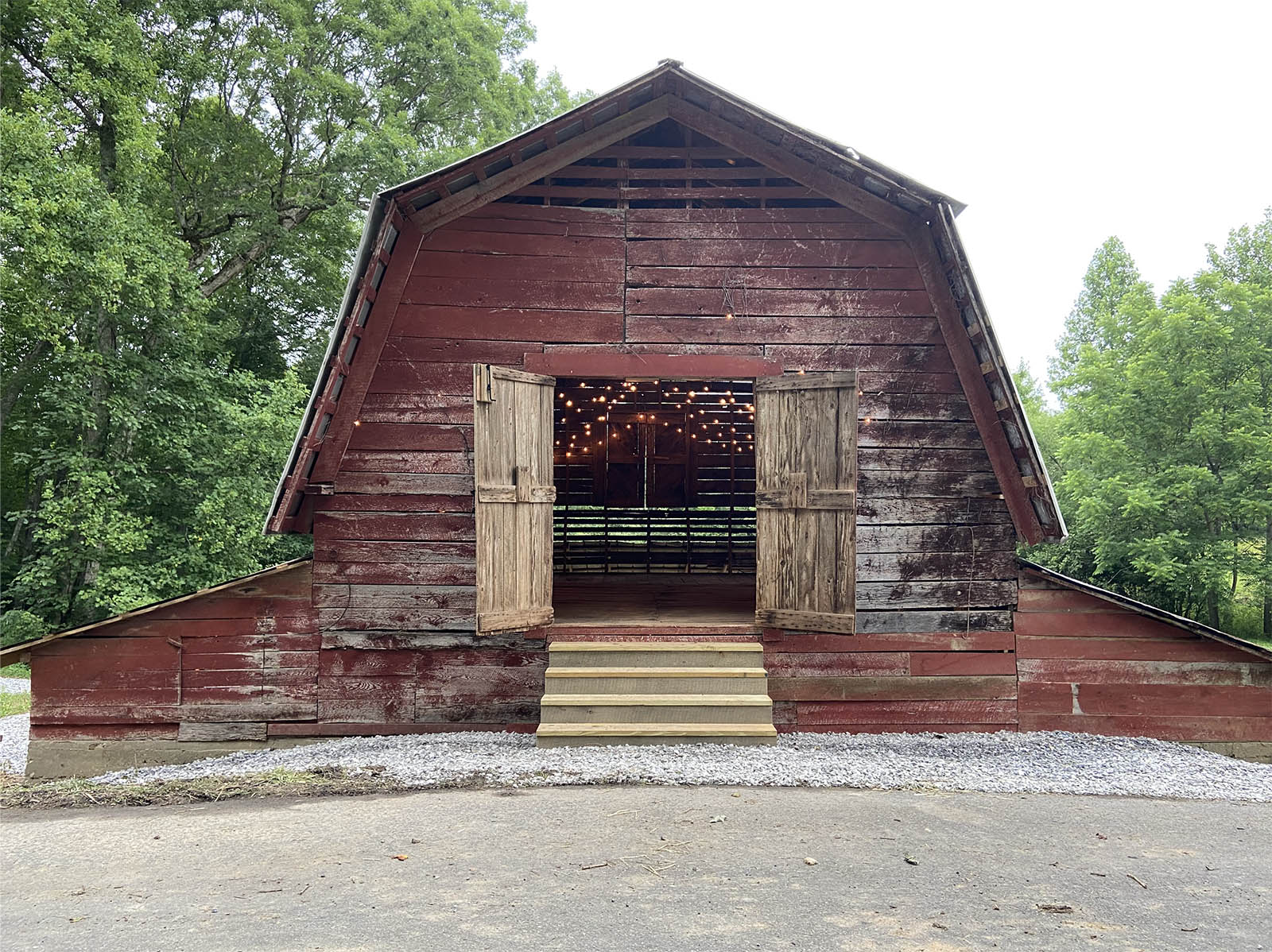 The Grounds
Conley Creek is a picturesque 18 acre property in the North Georgia Mountains. We have wooded areas with gigantic old growth hardwoods as well as open grassy fields. A small country road runs through the property that is lined with old barbed wire cattle fencing on one side and rustic split rail fencing on the other. The property was once a working farm which has been converted into an event venue and every effort has been made to maintain the "back in the day" feel that the historic property has. Parking for events is about 500' away from the venue which helps maintain the country aura and there is a walking path from the parking lot to the venue so that guests can stroll through a beautiful wooded area on their way to their event. The property is truly unique and offers a one of a kind venue for you to have a once in a lifetime event.